Programming:
the fun, easy, creative way
Spryte is a free, open source programming environment for creating static, animated, and interactive code-generated artworks. It provides graphic/web designers, and any aspiring programmers, with an accessible and visual way to learn programming.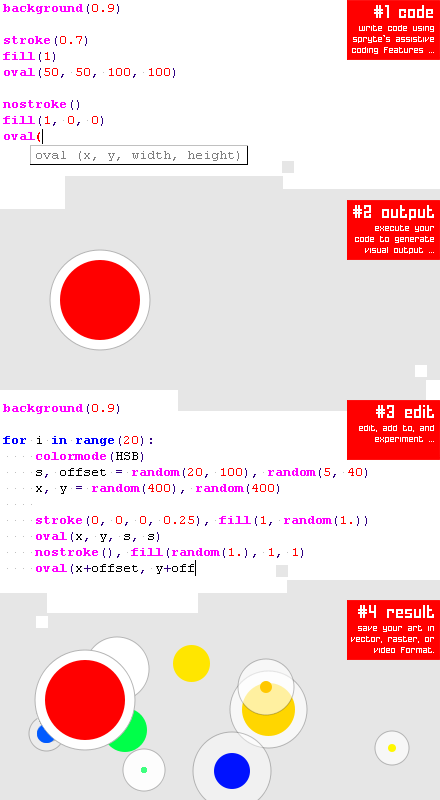 Spryte makes use of the highly intuitive and robust Python programming language, combining it with an assistive editor (IDE) for writing code. The user gets to explore computer algorithms as a creative medium, generating visual output, while at the same time learning the fundamentals of computer programming.
Having grasped Spryte, learning other programming languages is relatively easy. In fact, Spryte has been successfully used as precursor to teaching JavaScript, ActionScript, and PHP to graphic design students. more about Spryte
portable Windows version (no installation required: runs off your flash drive)
news
2009-oct-26

vpython added to spryte
Vpython -- or "Visual" -- is a Python 3d module, now included with Spryte. This means that Spryte can now create interactive 3d creations. ...
2009-oct-25

news section added
This news section will keep you up to date regarding new Spryte developments, as well as any other news you may be interested in. ...
2009-oct-09

new gallery works added
A number of new creations have been added to the gallery. The source code for these will be available soon. ...
2009-oct-01

work begins on the spryte website
After finalising the designs, the website work has begun. For now, its front-end code and writing tutorial and reference content. ...