News

|
2009-oct-26

vpython added to spryte
Vpython -- or "Visual" -- is a Python 3d module, now included with Spryte. This means that Spryte can now create interactive 3d creations. more ...
"VPython is the Python programming language plus a 3D graphics module called "Visual" originated by David Scherer in 2000. VPython makes it easy to create navigable 3D displays and animations, even for those with limited programming experience. Because it is based on Python, it also has much to offer for experienced programmers and researchers." -- VPython website.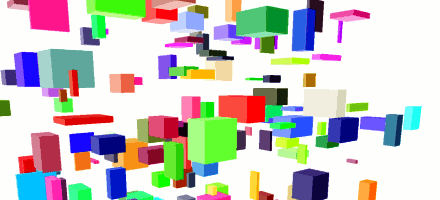 Using VPython is not all that different to writing 2d Spryte code, and extra 3d tutorials have been added to get you started. You will also find a number of examples in the "examples" folder included with the Spryte software.
This news section will keep you up to date regarding new Spryte developments, as well as any other news you may be interested in. more ...
Unfortunately, the news section is currently under development (pending technical decisions), so, for now, this section is not fully functional. The right column features are currently inactive.
2009-oct-09

new gallery works added
A number of new creations have been added to the gallery. The source code for these will be available soon. more ...
These have been added to the "about" page, in slide format, to better illustrate what Spryte is capable of and how to use it. Of course, you can see them in the gallery section too.
2009-oct-01

work begins on the spryte website
After finalising the designs, the website work has begun. For now, its front-end code and writing tutorial and reference content. more ...
There is plenty to be done on both the code and content. However, a working website will be up before the beginning of December. The "news" section will be implemented fully thereafter.